Letter to our Shareholders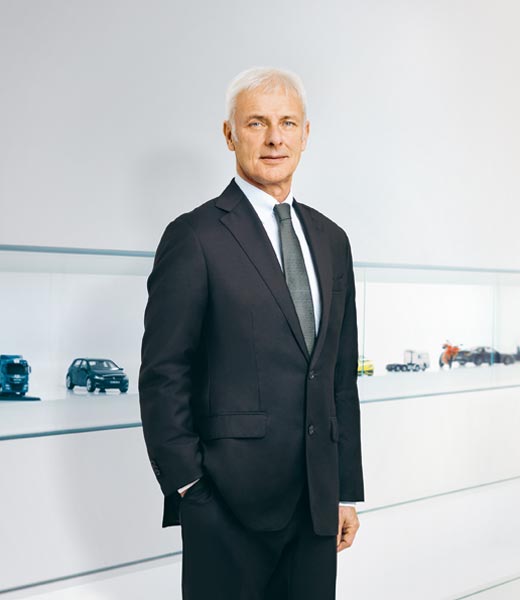 This is the first annual report of the Volkswagen Group where I have the privilege of writing to you as Chairman of the Board of Management. I welcome this opportunity, although I would have preferred to be addressing you in more
auspicious circumstances: as a result of the irregularities relating to diesel engines which contradict the very essence of what Volkswagen stands for, we find ourselves in the midst of what is probably the greatest challenge in the history of our Company. On behalf of the Volkswagen Group I would like to apologize to you, our shareholders, that the trust you placed in Volkswagen has been broken.
We are doing everything we can to overcome this crisis: with effective technical solutions for our customers and trustful cooperation with all the responsible authorities in order to completely and transparently clarify what happened. We are gradually making progress. Looking to the future, we must above all learn from past mistakes and draw the right consequences so that something like this can never happen at Volkswagen again. That is what is needed to rebuild trust and get our Group back on the right track. I realize that this course sometimes puts a great strain on patience – both yours and ours. But everyone at Volkswagen is working most diligently and with great commitment to rebuild the high
esteem this Group rightly enjoyed for so long.
The present crisis has a very significant impact on the Company. This is reflected among other things by the financial key performance indicators for the last fiscal year. But these figures also contain another important message: our operating business continues to be in excellent shape, our portfolio of twelve strong brands, unique in our industry, is carrying us even through this difficult phase. We delivered almost 10 million vehicles to customers in 2015 and grew sales revenue by over five percent to €213.3 billion. The operating result, which ran at €12.7 billion in the previous year, was €–4.1 billion. That is attributable to negative special items totaling €16.9 billion; without these special items, the operating result would have slightly exceeded the prior-year level. At €16.2 billion, the lion's share of special items is accounted for by contingency reserves for the diesel issue, including ongoing technical and customer-related measures, repurchases and legal risks. The Volkswagen Group's earnings before and after tax amounted to €–1.3, respectively €–1.4 billion as a result of the high exceptional charges.
Without the special items we would once again have been able to talk about a successful year overall. In light of this and given the Group's unchanged robust financial strength, the Board of Management and the Supervisory Board will propose a dividend of €0.11 per ordinary share and €0.17 per preferred share to the Annual General Meeting of Volkswagen Aktiengesellschaft despite the negative consolidated result of the Volkswagen Group.
"Everyone at Volkswagen is working most diligently and with great commitment to rebuild the high esteem this Group rightly enjoyed for so long."
The diesel issue has clearly overshadowed much in recent weeks. For me it is important that you know there is much more to Volkswagen than this crisis. Our Group has qualities that did not vanish overnight, qualities on which we can also build for the future: strong brands and great vehicles, outstanding technological expertise and innovative strength, our global presence, millions of loyal customers all over the world, and a skilled team that is totally committed to these customers. I have great respect for the achievements and dedication of our employees. We are – I am – very grateful for that.
The Volkswagen Group has the firm resolve and the strength to master the difficult situation we find ourselves in with its own resources. From the outset, I have believed it is important we use this crisis as an opportunity: an opportunity to realign the Group in an automotive world that is facing epoch-making change. Our mission is to come up with the right answers to the big issues of the future, namely e-mobility, urbanization and digitalization. To do that, the Volkswagen Group must become faster and more efficient, more flexible and courageous, more technically progressive and sustainable in all relevant aspects. That is why we are realigning our structures, our mindset and the way we approach things. More than that – we are also renewing our targets, or to put it another way: we are evolving the strategy which has served us so well over the past years in light of the challenges to be faced over the next ten years. The presentation of our "Strategy 2025" mid-year will be an important milestone.
As far as Volkswagen is concerned, 2016 will clearly be a year of transition, a year when we lay the foundations for the future. I am firmly convinced that, with time, we will be able to say: no matter how grave the crisis was, it also opened doors for us. Because it encouraged us to set the right priorities and speed up overdue change. And because we will succeed in making Volkswagen a better company with the measures we are now putting in place. A Group that boldly seizes the future, attains sustainable growth and opens up long-term perspectives: for its customers, employees and partners, for society and, not least, for you, our shareholders.
A letter of this kind usually ends by asking shareholders for their trust. Now more than ever, that trust must be earned. And we are working on that. Which is why, this year, I am asking above all for your continued loyalty to Volkswagen in spite of the present pressures,and hope you remain at our side as we make the journey into the future.
Sincerely,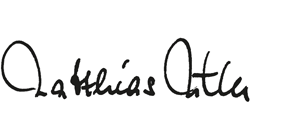 Matthias Müller