Employees
Excellent performance, the success that comes from it and participation in its rewards are at the heart of Volkswagen's human resources strategy. Our teams must draw on the specialist knowledge and abilities of every member if they are to perform at their peak, create excellent products and ensure our business success.
As of December 31, 2015, the Volkswagen Group, including the Chinese joint ventures, employed 610,076 people, 3.0% more than at the end of fiscal year 2014. Significant factors for the increase in employees were the expansion of the workforce at our new plants in China, Poland and Mexico and the recruitment of specialists, particularly in Germany and China. In 2015, the Volkswagen Group took a total of 3,698 temporary employees into its core workforce in Germany.
The ratio of Group employees in Germany to those abroad remained unchanged in the past year. As of the 2015 reporting date, 45.7% were employed in Germany.
EMPLOYEES BY CONTINENT
in percent, as of December 31, 2015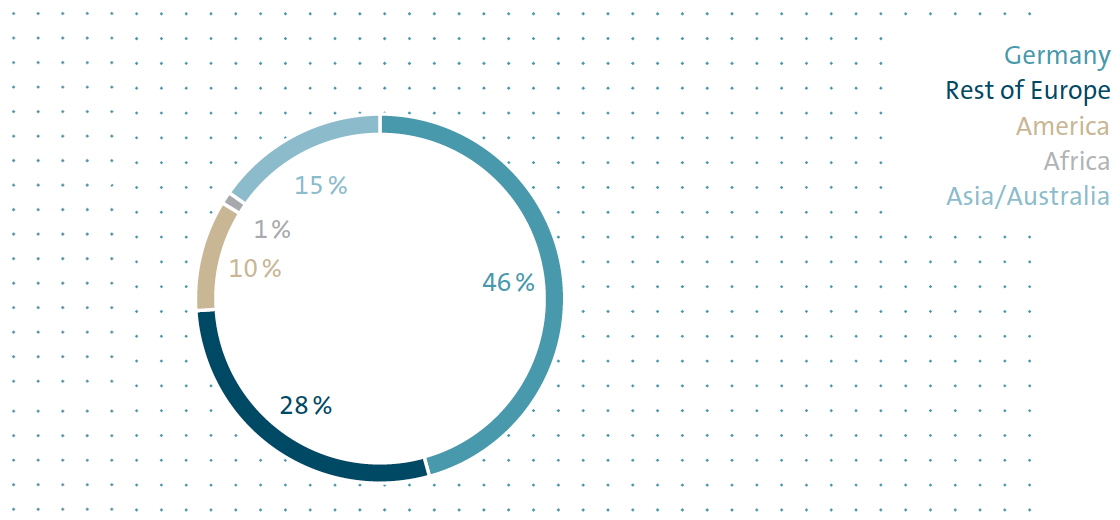 EMPLOYEE BREAKDOWN1
as of December 31, 2015

2015

2014

2013

2012

2011

| | |
| --- | --- |
| 1 | Including the Chinese joint venture companies. |
| 2 | Volkswagen AG |

Vocational trainees in the Group

18,651

18,459

17,703

16,714

15,021

Industrial

13,673

13,577

13,174

12,508

11,249

Commercial

4,978

4,882

4,529

4,206

3,772

Passive phase of partial retirement

6,183

7,129

9,501

7,804

4,488

Group's active employees

585,242

566,998

545,596

525,245

482,447

Employees

610,076

592,586

572,800

549,763

501,956

Europe

451,257

438,631

424,964

410,427

378,030

America

59,329

59,790

61,796

63,193

58,072

Africa

6,388

6,330

6,356

6,461

6,602

Asia

91,991

86,752

78,672

68,704

58,540

Australia

1,111

1,083

1,012

978

712

Percentage of female employees in the Group

16.0

15.7

15.5

15.2

14.7

Female graduate recruits2 (in %)

37.0

30.9

35.3

29.2

30.5