Journey through time and space

The Volkswagen Group keeps people and goods on the move all over the world. Technologies that enhance efficiency are becoming increasingly important in this context, not just because of the benefits they bring on the road, but also in vehicle production. Combined with a global service network and a comprehensive range of financial services products, this is how Volkswagen gives many people access to mobility.
Text: Laurin Paschek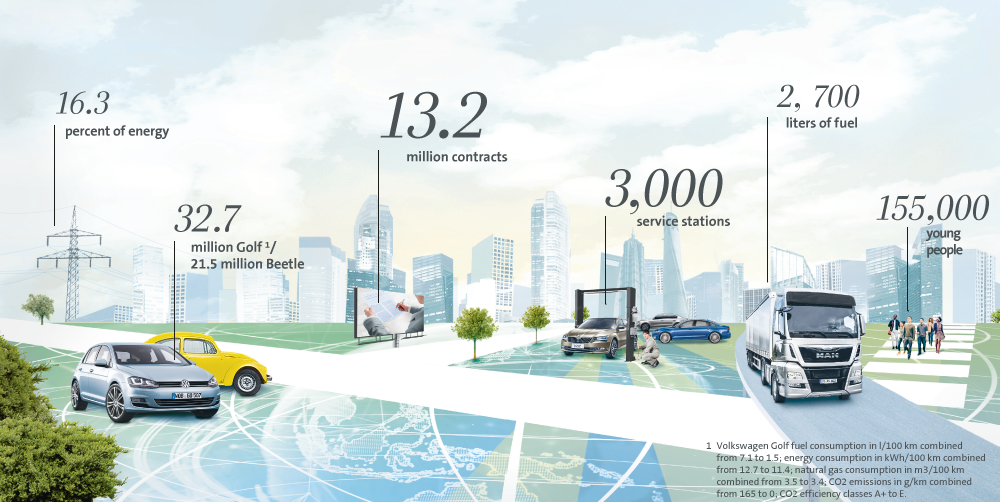 1
16.3
percent of energy
Volkswagen reduced energy consumption per vehicle produced (passenger cars and light commercial vehicles) throughout the Group by 16.3 percent between 2010 and 2015.
2
32.7
million Golf1 /

21.5 million

Beetle

The Beetle defined an entire era. Volkswagen built 21.5 million up to 2003. This bestseller was succeeded by the Golf in 1974 – 32.7 million have rolled off the assembly lines so far.
3
13.2
million contracts
Volkswagen Financial Services is giving more and more people access to mobility through a growing number of customer financing, leasing, service and insurance contracts in 2015.
4
3,000
service stations
The Volkswagen Group has more than tripled the number of dealers and authorized service stations in China over the last ten years. The core Volkswagen brand is joined in particular by Audi and ŠKODA, with all three producing vehicles in the country.
5
2,700
liters of fuel
The MAN TGX EfficientLine 2 saves this amount of diesel compared with its predecessor based on an annual mileage of 150,000 kilometers thanks to the predictive "Efficient Cruise" cruise control plus engine and transmission optimization.
6
155,000
young people
Round 155,000 people under the age of 30 work for the Volkswagen Group all over the world. This means almost a quarter of the workforce belongs to this young age group.