My car – my buddy

Volkswagen has taken the next step toward the mobility of the future with "BUDD-e", the fully-networked long-distance van unveiled at the Consumer Electronics Show (CES) in Las Vegas. The all-electric concept has a range of over 500 kilometers as well as a completely new form of interior design.
Text: Laurin Paschek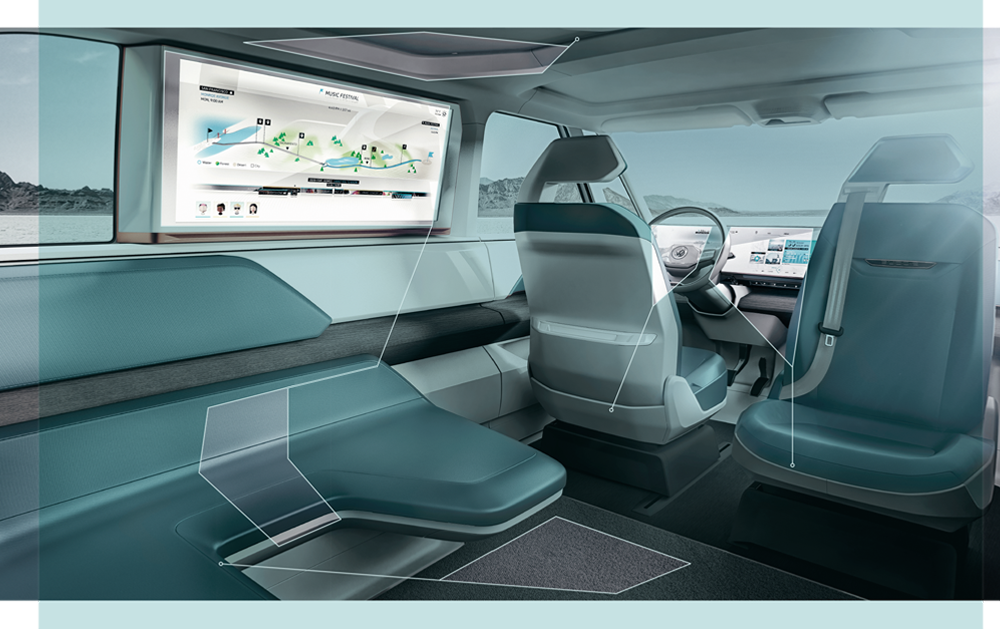 1
Best buddy
Forgotten your sunglasses? No worries: "BUDD-e" can remind its occupants when particular items should be remembered – like sunglasses for traveling in fine weather. Relevant items are fitted with a transmitter (small sticker) in advance, making it possible for the car to locate them via the antennas integrated in the headliner. "BUDD-e" also networks passengers with their homes – so they can perform tasks such as switching lights on or checking the contents of the refrigerator.
2
New modular kit
"BUDD-e" is the first Volkswagen concept vehicle based on the new modular electric toolkit. This kit will in future enable an all-electric range of over 500 kilometers for all vehicle types. The battery pack extends flat under the floor between the front and rear axles. That creates space and permits new, unrestricted forms of design. The battery can be charged to 80 percent of its capacity in just 30 minutes. Two electric motors, one at each axle, power the concept car.
3
Lounge concept
Opening the sliding door with an intuitive hand gesture reveals an interior that is more reminiscent of a lounge than a car in the conventional sense. The rear features a wraparound bench including two tablet PCs that can even be charged inductively; the bench is arranged longitudinally in the direction of travel. A 34-inch monitor is integrated in the side wall.
4
Central info display
With "BUDD-e's" interface design, Volkswagen eliminates the traditional distinction between the instrument cluster in front of the driver and the center console infotainment system. These two areas have been merged in a large interactive panel to form a single information hub.
5
Gesture, touch and voice control
All information and comfort functions are operated intuitively by gesture, touch or voice. For example, if an occupant says "turn up the heat a bit, please", the system uses voice recognition to locate the passenger giving the command and adjusts the temperature in that passenger's zone. "BUDD-e" is equipped with cameras and infrared sensors for gesture control.